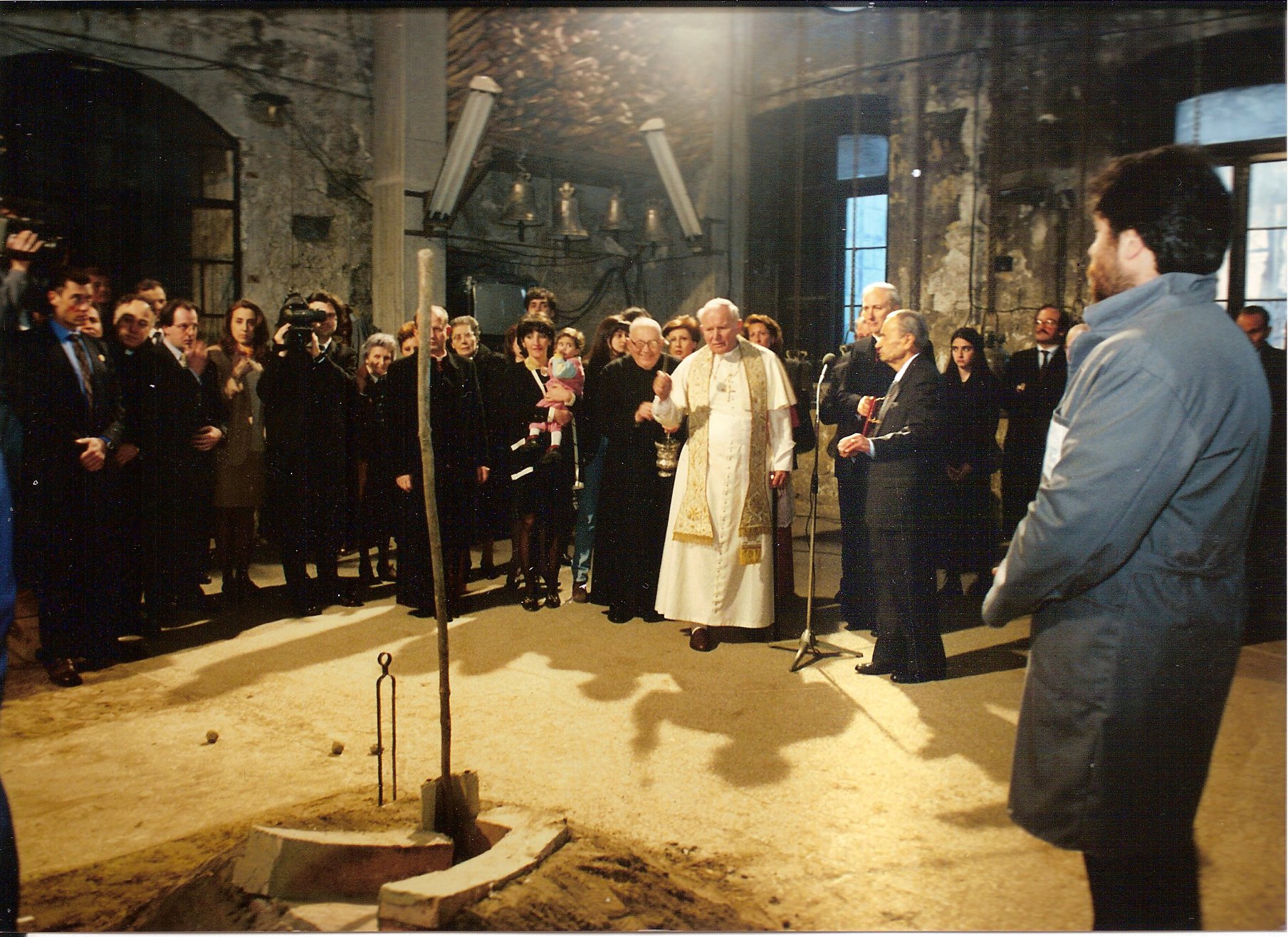 HIS HOLINESS POPE JOHN PAUL II VISITS THE OLDEST BELL FOUNDRY IN THE WORLD
At the Marinelli Pontifical Bell Foundry, the canonization of Pope John Paul II was a joyful time. The most memorable highlight of recent years is still the time when Pope John Paul II came to visit the foundry in 1995 for the celebration of Saint Joseph the Artisan.
To commemorate the event of Pope Wojtyła's Canonization, the Marinelli Pontifical Bell Foundry cast a bronze bell to donate to Pope Francis in the Vatican.
It would be a great honor for the Marinelli family if this bell were to be installed in a place that represents the splendid persona of Pope John Paul II (maybe next to His Holiness's Tomb in Saint Peter's Basilica).
La campana, del peso di 80 chili e del diametro di 50 cm e nota musicale SOL reca scolpiti in rilievo lo stemma di Giovanni Paolo II Santo, quello di Papa Francesco e di Joseph Ratzinger Papa Emerito, imprimendo così nel bronzo l'eccezionalità di un periodo storico particolarmente fervido per la Chiesa di Roma e del Mondo.
Il 27 aprile, la nuova nata, suonerà all'unisono con tutte le campane del mondo i suoi primi rintocchi festosi, durante la proclamazione ufficiale della Santificazione di Carol Wojtyla e Papa Giovanni XXIII.
La lunga, sorprendente, visita di Giovani Paolo II rimane l'avvenimento più prestigioso ed emotivamente coinvolgente nella storia della millenaria Fonderia di Agnone: un evento che col passar del tempo si colora ancor più di valori, significati ed indescrivibili emozioni.
Sua Santità arrivato ad Agnone e dopo essere stato accolto dal suono festoso delle sue famose campane ha salutato e ringraziato tutti con grande gioia:
"…..SONO FELICE DI ESSERE IN MEZZO A VOI IN QUESTO ANTICO CENTRO DEL MOLISE, CHE HA DIFFUSO NEL MONDO MESSAGGI DI CULTURA E DI FEDE, VEICOLATI DAL LAVORO DEI SUOI FIGLI E, IN QUALCHE MODO, ANCHE DAL SUONO DELLE SUE FAMOSE CAMPANE.
AVRO' TRA POCO LA GIOIA DI ASSISTERE ALLA COLATA DI UNA NUOVA CAMPANA DELLA FONDERIA MARINELLI: UNA CAMPANA CHE RECHERA' IN BASSORILIEVO LA PROFEZIA DI PACE DI ISAIA…
…TROVO INOLTRE MOLTO SIGNIFICATIVO CHE LA COLATA DELLE CAMPANE DI AGNONE SIA ACCOMPAGNATA DALLA PREGHIERA, SPECIALMENTE DALL'INVOCAZIONE DELLA MADRE DI DIO…."
E ricordando la visita in fonderia il Santo Padre dice:
"…CIASCUNO DI NOI PORTA IN SÉ UNA CAMPANA, QUESTA CAMPANA SI CHIAMA CUORE E QUESTO CUORE SUONA E, SPERO SUONI SEMPRE BELLE MELODIE…"
Ed è sicuramente il commento più profondo ed emozionato che mai sia stato trasmesso.